Austin Heating Repair
Reliable Furnace Repair Services For Homes & Businesses in Austin & the Surrounding Areas
Austin is known for its hot, humid summers and mild winters. But when temperatures do drop during the winter months, you'll want to make sure your heating system is up to the task of keeping your home or business warm and cozy. That's why it's important to call on a reliable HVAC team like Covenant Air Conditioning & Heating for all of your heating & furnace repair needs in Austin and surrounding areas.
Our licensed and NATE-certified technicians have decades of experience working with all types of furnaces, heat pumps, boilers, and more. We understand that having a properly functioning heater isn't just about comfort - it can also be a matter of safety in extreme cold weather conditions. So whether you're dealing with an unexpected breakdown or need routine maintenance before colder weather sets in, our experienced professionals are here to help!
We offer quality repairs at competitive prices so you don't have to worry about breaking the bank just because something went wrong with your heater. Plus, we use only top-of-the-line parts from trusted brands so you can rest assured that any work we do will last through many seasons ahead. And if there comes a time when replacing your old unit makes better financial sense, we can help you find an energy-efficient replacement that matches your budget.
---
Call Covenant Air Conditioning & Heating at (512) 318-2257 or contact us online to request an appointment for our heater repairs in Austin today!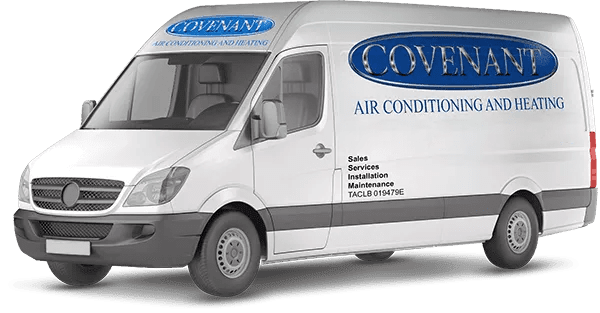 Signs You Need Furnace Repairs
When the winter months roll around, you expect your furnace to keep your home or business warm and cozy. But with it not being used for most of the year, it can be easy to forget just how important a working heater is - until something goes wrong. And when that happens, you'll want to know what signs might indicate a problem so you can call in HVAC professionals before things get worse.
Some telltale signs your furnace is having problems are:
Unusual noises coming from the unit
Weak airflow from vents
Poor indoor air quality
Uneven heating throughout rooms
Higher than normal energy bills
Excess dust and debris buildup near vents
If you experience any of the above symptoms, don't wait to call for help. At Covenant Air Conditioning & Heating, we certify all of our heating repair pros so you can be confident that they have the experience and skills to get the job done right. We're here to make sure your heater is ready when Old Man Winter comes knocking!
Why Is My Heater Blowing Cold Air?
When the temperature outside drops and your heater starts blowing cold air, it can be a cause for concern. There are a number of reasons why this could happen, ranging from minor issues to more serious problems. Fortunately, professional heating repair technicians have the experience and expertise to uncover the exact issue quickly so you can get back to enjoying warm comfort in no time.
Some of the reasons heaters may blow cold:
Clogged or dirty filter
Thermostat is set too low
Pilot light has gone out
Blower motor needs repairs
Ignition system malfunctioning
Furnace is not receiving power
Whether the issue is minor, like a filter needing replacement, or something more complex, like an ignition system malfunctioning, we can help. With Covenant Air Conditioning & Heating on the job, you don't have to worry about enduring a cold winter night with no heat.
Schedule an Appointment with Our Austin Heating Repair Specialists!
If your heating system breaks down, you need a reliable company to help fix it fast. Covenant Air Conditioning & Heating has been delivering dependable heating repair services in Austin and neighboring cities for over two decades. As a family-owned and operated business committed to quality service, we have thousands of customers who can attest to our professionalism and expertise.
By hiring our company, you can be assured of a dedicated team working towards the comfort of your home. We promise to provide a 100% satisfaction guarantee on all services rendered, and won't leave until we ensure your absolute delight with our work.
---
Give us a call at (512) 318-2257 or contact us online to request an estimate on our heating & furnace repair services in Austin & the surrounding areas today!

Schedule Your Service
Use our online scheduler to book your appointment.

Hear From Our Happy Customers
"

Scheduling and coordination was professional and a new unit was installed by a prompt and professional installation team! Our experience could not have been better. We are definitely ready for another Texas summer

"

- Kevin K.

"I just had a major repair done by Covenant and could not be happier. I called them on a Sunday afternoon because my A/C was out, and they were able to squeeze me in for a service call that day."

- Nina M.

"Had a great experience with Covenant! They installed a new A/C for me and it works wonderfully. Good price, too. Overall, this company met and exceeded my expectations."

- France B.

"I have used Covenant a few times for repairs on my A/C and they always do a great job. The technicians are always very friendly and professional. So I definitely recommend this company if you encounter any problem with your A/C."

- Dale D.

"I highly recommend Covenant A/C, communication was great from receptionist, workmen and Michael Luker. You cannot go wrong with this aboveboard company."

- Cathey C.