Austin, TX Air Conditioning Repair
Get Your AC Back On Track By Calling Our Licensed Specialists
When your AC breaks down on a hot summer day in Austin, you know the discomfort that awaits. With temperatures regularly reaching over 100 degrees Fahrenheit, it can be unbearable to be without air conditioning. That's why it is important to choose an experienced HVAC company you can trust to make the repairs quickly and accurately.
At Covenant Air Conditioning & Heating, our licensed technicians are skilled in repairing even the most complex AC issues. We use the latest diagnostic tools to determine what is causing your system to malfunction and have access to a wide array of replacement parts for faster repairs. Our same-day services and emergency repairs mean you won't be left waiting any longer than necessary for your cooling system to be working properly again.
If you're looking for reliable AC repair in Austin, TX, contact Covenant Air Conditioning & Heating today. Don't suffer through another sweltering Texas summer without a functioning air conditioner—trust us for fast and reliable service!
Dial (512) 318-2257 or complete our online form to schedule a service with one of our experts. Se habla español.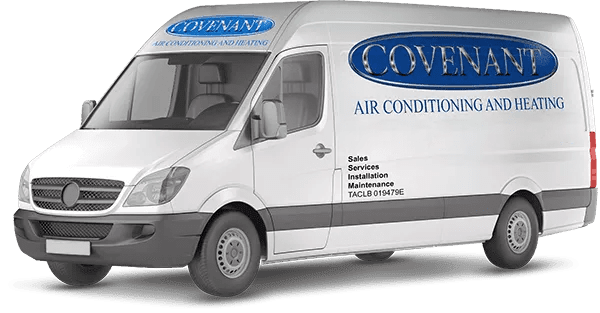 Signs My AC Needs Professional Attention
It's easy to tell when your air conditioner isn't working properly—the lack of cool air coming from the vents is a dead giveaway. But there are other signs that may indicate it's time for professional AC repair, even if your unit is still producing cold air.
Common signs that you need an AC repair include:
Strange noises coming from the unit
Bad odors being emitted from the vents
Airflow that is not strong or consistent
Uneven cooling throughout your home
High energy bills due to inefficient operation
Excessive condensation around the indoor unit
If you're experiencing any of these signs, contact Covenant Air Conditioning & Heating right away. Our licensed technicians will be able to diagnose and repair any issues with your air conditioning system with confidence.
What Causes Your Air Conditioner to Fail?
Air conditioners are some of the most durable appliances you can buy, but they are taxed heavily in places like Texas where they work overtime to keep homes cool during long hot summers. Unfortunately, even the most reliable systems can experience breakdowns due to a variety of causes.
Some of the most common reasons your AC can stop working:
Lack of maintenance or improper installation: Regular maintenance keeps your system running efficiently and helps prevent breakdowns. Improper installation can also cause damage to components or lead to leaks that reduce efficiency.
Age and general wear and tear on components: Just like any other appliance, AC units that are old or have experienced a lot of use can develop issues. An aging system is going to need frequent professional attention or else risk a complete breakdown. A new installation may be necessary.
Refrigerant leaks or low refrigerant levels: Refrigerant is essential to the transfer of heat within your cooling system. If there is a leak in the refrigerant line, it can cause low levels of refrigerant, which can lead to inadequate cooling.
Clogged air filters or ductwork: A dirty filter can block airflow within your system, reducing efficiency and causing it to struggle. Ductwork that is blocked or damaged in some way can also lead to decreased performance and efficiency.
Electrical problems such as short circuits: Electrical issues can cause a range of problems, from minor to severe. It's important to address any electrical issues as soon as possible before they cause major damage to your system.
Faulty compressors, condenser fans, and blower motors: These parts of your air conditioner are responsible for moving air and cooling it. Any damage or failure to these components will cause reduced performance.
Broken thermostats or other control issues: Your thermostat is what controls the overall operation of your HVAC system. If it isn't working properly, you won't get the desired temperature or air flow.
What To Expect at My AC Repair Visit in Austin
At Covenant Air Conditioning & Heating, we understand that when it comes to AC repairs, you want the job done right and with minimal disruption to your day. That's why we are committed to providing top-quality service at competitive rates while also ensuring a great customer experience.
When you call us for an AC repair visit, here is what you can expect:
We will provide honest and clear communication throughout the process so that there are no surprises along the way.
We'll arrive on time for our appointment in fully stocked trucks with all the necessary tools and equipment to get right to work.
NATE-certified technicians with years of experience in diagnosing and fixing all types of air conditioning issues.
We use only high-quality parts and materials so that your unit runs smoothly for years to come.
We will leave your home clean and tidy after every visit – no mess left behind!
Se habla español - our team can provide bilingual services if needed!
If you need help with your air conditioning unit, don't hesitate to call us at (512) 318-2257 or complete our online form to schedule a estimate. We look forward to helping you get your AC running smoothly and efficiently as soon as possible!

Schedule Your Service
Use our online scheduler to book your appointment.

Hear From Our Happy Customers
"

Scheduling and coordination was professional and a new unit was installed by a prompt and professional installation team! Our experience could not have been better. We are definitely ready for another Texas summer

"

- Kevin K.

"I just had a major repair done by Covenant and could not be happier. I called them on a Sunday afternoon because my A/C was out, and they were able to squeeze me in for a service call that day."

- Nina M.

"Had a great experience with Covenant! They installed a new A/C for me and it works wonderfully. Good price, too. Overall, this company met and exceeded my expectations."

- France B.

"I have used Covenant a few times for repairs on my A/C and they always do a great job. The technicians are always very friendly and professional. So I definitely recommend this company if you encounter any problem with your A/C."

- Dale D.

"I highly recommend Covenant A/C, communication was great from receptionist, workmen and Michael Luker. You cannot go wrong with this aboveboard company."

- Cathey C.