Your Go-To Experts For Emergency HVAC Repair In Austin, TX And Surrounding Cities
With extreme weather fluctuations in Texas, you'll never know when it will get too cold or hot. It is therefore always better to stay prepared at all times with a well-functioning HVAC system.
Unfortunately, unexpected equipment malfunction can happen. That is why Covenant Air Conditioning & Heating, Inc. is available round-the-clock to respond when you need an emergency HVAC repair near or in Austin, TX.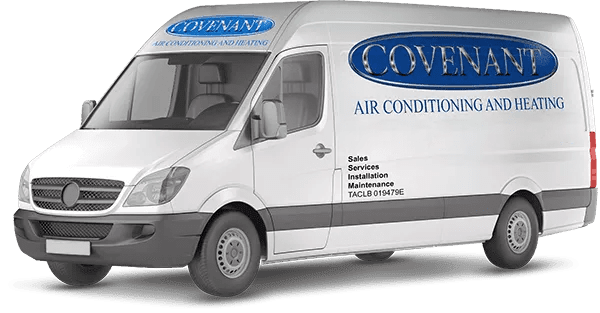 Emergency Repairs For 24/7 Comfort
In the event of an emergency repair, our industry-certified technicians are available 24/7 to help. Our techs have the experience and knowledge to handle any HVAC problem, whether it's an air conditioner blowing hot air in the summer or a furnace breakdown in the middle of winter.
Our company is fully licensed. We have met the state's requirements for providing HVAC services, and hopefully, this gives you peace of mind knowing that the team you hired knows exactly what they're doing.
Air Conditioning and Heating Emergencies
If your HVAC system is on the fritz, you can call us at (512) 318-2257 for an emergency repair today.
We offer comprehensive HVAC services round-the-clock. Our fully-loaded trucks and reliable technicians are on standby to respond to any emergency call.
With everything in place, we'll arrive quickly to diagnose the problem and provide an estimate on more permanent repairs if necessary.
Our technicians handle emergency air conditioning repair in Austin, TX and surrounding cities. Whether you need simple repairs or a major overhaul, our cooling experts have got you covered.
We also offer emergency heating repair in Austin, TX and the nearby areas. So if your heating unit stopped working as it should in the middle of winter, worry not because there are techs you can call for help.
Our technicians will replace any broken equipment with brand new parts made by industry leaders such as Lennox®, so you know that your system is getting repaired to last for many years to come.
Why Choose Us?
We are completely aware that we're not the only ones who offer HVAC emergency services. Nevertheless, we're confident we're among the few who deliver a service worth your trust, money, and time. When you choose our team for your emergency repair need, you're getting access to:
Professional and fast customer service
Guaranteed work
Licensed HVAC experts
Accurate diagnosis and advice from the experts
A repair job done right the first time
Quality replacement parts
Our team has been providing our local community with over 20 years of dedicated commercial and residential HVAC services.
Through the years, our team honed their skills and updated their knowledge to be able to provide efficient repair service. We'll make sure your unit is back up and running in no time.
Contact our Emergency HVAC Experts Today!
Don't put your air conditioning or heating system and your comfort at risk or let an unexpected HVAC emergency ruin your day – call us for emergency cooling and heating repair in Austin, TX and surrounding cities today.
We provide a free quote, and there's no obligation to go with our services after we complete the estimate. If you're interested, we can begin work immediately and take care of all necessary repairs to restore your systems' functionality.
Contact us at (512) 318-2257 to get started.

Schedule Your Service
Use our online scheduler to book your appointment.

Hear From Our Happy Customers
"

Scheduling and coordination was professional and a new unit was installed by a prompt and professional installation team! Our experience could not have been better. We are definitely ready for another Texas summer

"

- Kevin K.

"I just had a major repair done by Covenant and could not be happier. I called them on a Sunday afternoon because my A/C was out, and they were able to squeeze me in for a service call that day."

- Nina M.

"Had a great experience with Covenant! They installed a new A/C for me and it works wonderfully. Good price, too. Overall, this company met and exceeded my expectations."

- France B.

"I have used Covenant a few times for repairs on my A/C and they always do a great job. The technicians are always very friendly and professional. So I definitely recommend this company if you encounter any problem with your A/C."

- Dale D.

"I highly recommend Covenant A/C, communication was great from receptionist, workmen and Michael Luker. You cannot go wrong with this aboveboard company."

- Cathey C.