Cedar Park Heating Installation
Expert Heating Installation In Cedar Park, TX
Have you been thinking about upgrading your home's heating system? Maybe you are unhappy with your current heating provider or concerned about rising energy costs. Covenant Air Conditioning & Heating specializes in providing top-quality heating installation Cedar Park, TX for residential and commercial spaces.
We have a wide range of energy-efficient products, and our certified technicians work diligently to ensure that your new unit is properly installed and functioning optimally. You can count on us for all your heating needs!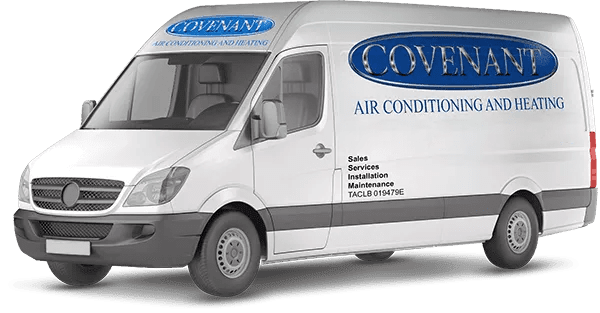 5 Questions to Ask Before Getting a Heating Installation Service
Getting a heating installation Cedar Park, TX service is a big decision. There are a lot of factors to consider, including the size and type of your home, your budget, and your heating needs. Here are a few questions to ask yourself before making a decision:
What type of heating system do I need?
Heat pumps, furnaces, and boilers are the most common types of heating systems. Each has its own benefits and drawbacks.
For larger spaces, a boiler might be the best option. You can also use it to heat water for your home's radiant flooring system. But a heat pump might be the way to go if you are looking for a more energy-efficient option. We recommend talking to one of our certified technicians to figure out which type of unit is right for you.
How much will it cost to install and operate a new heater?
Prices for heating installation Cedar Park, TXvary depending on the system type, home size, and other factors. Many homeowners are concerned about the upfront cost of a new system. However, it is important to consider the long-term costs as well. In general, heat pumps are the most cost-effective option, followed by furnaces. Boilers tend to be the most expensive to operate.
How long will it take to install a new heating system?
The installation process depends on the type of unit you choose and the size of your property. But generally, heat pumps and furnaces can be installed in one day. Boilers usually take two to three days. Our technicians will be able to give you a more accurate timeline after assessing your project.
Are there any rebates or tax credits available for energy-efficient heating units?
In Cedar Park, Texas, you may be eligible for a rebate from the city if you install a qualifying energy-efficient heating system. There are also federal tax credits available for certain types of units. Be sure to ask our technicians about available rebates and tax credits when you request a quote for heating installation Cedar Park, TX.
What are the warranty options for a new heating system?
Most heating units come with a manufacturer's warranty. It typically covers parts and labor for a certain number of years. At Covenant Air Conditioning & Heating, we can also provide an extended labor warranty for an additional fee. It will cover the labor cost for repairs or replacement beyond the manufacturer's warranty period.
Give Our HVAC Specialists a Call Today!
If you are ready for an upgrade or heating installation Cedar Park, TX, our team is here to help. You can also drop us a line anytime for any concerns or to request a free quote for our services – call (512) 318-2257!

Schedule Your Service
Use our online scheduler to book your appointment.

Hear From Our Happy Customers
"

Scheduling and coordination was professional and a new unit was installed by a prompt and professional installation team! Our experience could not have been better. We are definitely ready for another Texas summer

"

- Kevin K.

"I just had a major repair done by Covenant and could not be happier. I called them on a Sunday afternoon because my A/C was out, and they were able to squeeze me in for a service call that day."

- Nina M.

"Had a great experience with Covenant! They installed a new A/C for me and it works wonderfully. Good price, too. Overall, this company met and exceeded my expectations."

- France B.

"I have used Covenant a few times for repairs on my A/C and they always do a great job. The technicians are always very friendly and professional. So I definitely recommend this company if you encounter any problem with your A/C."

- Dale D.

"I highly recommend Covenant A/C, communication was great from receptionist, workmen and Michael Luker. You cannot go wrong with this aboveboard company."

- Cathey C.