Cedar Park Heating Maintenance
Top-Notch Heating Maintenance In Cedar Park, TX
As much as we would like our heating systems to last the test of time, they will eventually break down and require repair or replacement. At Covenant Air Conditioning & Heating, we value great service – with a commitment to customer satisfaction and quality workmanship.
Our heating maintenance in Cedar Park, TX service is state of the art. Our technicians are trained to offer customers the highest level of service and ensure their heating units are up to date. We are also trained to provide repair and installation services with the overall user experience in mind.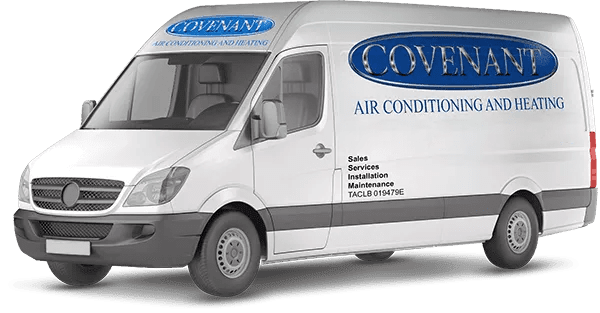 How a Malfunctioning Heating System Impacts Your Family's Health
In Texas alone, an estimated 2,200 people die each year due to problems associated with heating units. Putting off heating maintenance in Cedar Park, TX can lead to increased problems and safety issues, such as:
Respiratory Problems
Extremely dry indoor air can irritate the respiratory tract and make it more susceptible to infection. Similarly, airborne contaminants like dust and pollen can trigger allergies and asthma attacks.
To help prevent these problems, ensure your heating system has a high-quality filter installed; replacing it regularly will also help reduce the buildup of indoor air contaminants. You may also benefit from using a humidifier to prevent dryness and irritation. A heating maintenance in Cedar Park, TX specialist can help determine the best preventative measures for your safety.
Dangerous Carbon Monoxide Levels
Carbon monoxide (CO) is a colorless, odorless gas that can be deadly if inhaled in high concentrations. Most home heating systems produce some CO, but when operating properly, the combustion process pulls the CO out of the air and vents it outside. If there's a problem with the venting system, the carbon monoxide can build up to dangerous levels inside your home.
Common symptoms include:
Frequent headaches – often triggered when the air inside is too dry
Dizziness and nausea – caused by the lack of oxygen
Flu-like symptoms – including muscle weakness and fatigue
Vomiting and fainting – due to decreased oxygen supply
If you experience any of these symptoms while using the heater, turn it off immediately and open all the doors and windows to air out the house. It is recommended to have a carbon monoxide detector installed, as this can alert you to dangerous levels of CO in your home.
Fires and Burns
Home fires peak during the winter, so your heating system must be in good condition before using it for the season. Part of the heating maintenance in Cedar Park, TX task is inspecting all vents and ducts for blockages that could cause overheating and clearing away debris that might have accumulated around the unit's base.
If you have a fireplace, have it cleaned and inspected by a professional before lighting it for the first time each winter to prevent dangerous chimney fires. Always keep combustible materials like newspapers and blankets at least three feet away from space heaters and other portable heaters; this will help prevent accidental fires.
Expect Quick Response Times from Our HVAC Experts!
From emergency heating repair to routine maintenance, you can count on us to be there as quickly as possible. We can also offer same-day service for various heating needs, so you don't have to wait long to get the help you need.
Call (512) 318-2257 to learn more about our heating maintenance in Cedar Park, TX service!

Schedule Your Service
Use our online scheduler to book your appointment.

Hear From Our Happy Customers
"

Scheduling and coordination was professional and a new unit was installed by a prompt and professional installation team! Our experience could not have been better. We are definitely ready for another Texas summer

"

- Kevin K.

"I just had a major repair done by Covenant and could not be happier. I called them on a Sunday afternoon because my A/C was out, and they were able to squeeze me in for a service call that day."

- Nina M.

"Had a great experience with Covenant! They installed a new A/C for me and it works wonderfully. Good price, too. Overall, this company met and exceeded my expectations."

- France B.

"I have used Covenant a few times for repairs on my A/C and they always do a great job. The technicians are always very friendly and professional. So I definitely recommend this company if you encounter any problem with your A/C."

- Dale D.

"I highly recommend Covenant A/C, communication was great from receptionist, workmen and Michael Luker. You cannot go wrong with this aboveboard company."

- Cathey C.