Duct Sealing in Austin, TX
Helping You Keep Your Home Cooler & Your Energy Bills Lower in Cedar Park
Ducts are the heart of your HVAC system. They distribute the air that keeps your family comfortable. Unfortunately, they are also a major source of energy loss. If your ducts are leaking, it can result in higher utility bills, uncomfortable rooms, and an unreliable HVAC system. At Covenant Air Conditioning & Heating, we offer duct sealing in Austin, TX to help you save money and stay comfortable. Our duct sealing services are designed to help you save on energy costs and increase the reliability of your HVAC system. In addition to duct sealing, our team of HVAC experts offer a full range of heating, cooling, and indoor air quality services. We are proud to offer quality products and services from brands you can trust. Our team is committed to exceeding your expectations!
Contact us at (512) 318-2257, and we can help you get the reliable HVAC system you deserve.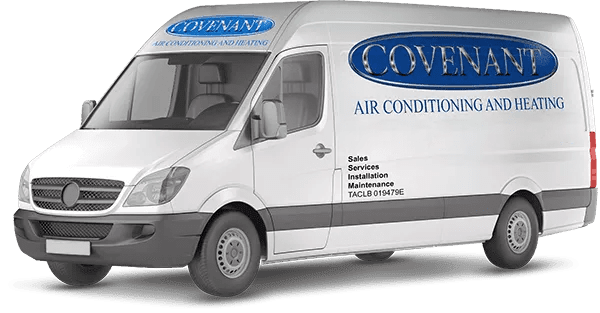 Our Duct Sealing Services
Duct sealing is a cost-effective way to help improve the efficiency of your HVAC system. It can help reduce your energy costs and increase the reliability of your system. At Covenant Air Conditioning & Heating, we use a variety of materials and techniques to seal the leaks in your ducts and help improve the performance of your HVAC system.
We offer a variety of duct sealing services, including:
Duct testing
Duct leakage testing
Air balancing
If you are looking for Austin duct sealing services, you can trust our team of experienced heating and air professionals. We are committed to providing you with the best service possible!
If you're looking for duct sealing in Austin, TX, call (512) 318-2257 for fast and reliable service.

Schedule Your Service
Use our online scheduler to book your appointment.

Hear From Our Happy Customers
"

Scheduling and coordination was professional and a new unit was installed by a prompt and professional installation team! Our experience could not have been better. We are definitely ready for another Texas summer

"

- Kevin K.

"I just had a major repair done by Covenant and could not be happier. I called them on a Sunday afternoon because my A/C was out, and they were able to squeeze me in for a service call that day."

- Nina M.

"Had a great experience with Covenant! They installed a new A/C for me and it works wonderfully. Good price, too. Overall, this company met and exceeded my expectations."

- France B.

"I have used Covenant a few times for repairs on my A/C and they always do a great job. The technicians are always very friendly and professional. So I definitely recommend this company if you encounter any problem with your A/C."

- Dale D.

"I highly recommend Covenant A/C, communication was great from receptionist, workmen and Michael Luker. You cannot go wrong with this aboveboard company."

- Cathey C.