Heating Repair Leander, TX
Your #1 HVAC Company For Quality Heating Repair In Leander, TX
Perhaps you've been in the same situation when your furnace has been on the fritz. You're unsure what to do, and you're scrambling to figure out how to fix it immediately. While there are certainly a lot of HVAC companies in the Leander area, not all of them offer the same quality of service. That's why it's crucial to choose a company you can trust – like Covenant Air Conditioning & Heating!
Our technicians can help you with any heating repair Leander, TX, that you may have. We're always here to help, and we'll work hard to get your furnace back up and running as quickly as possible.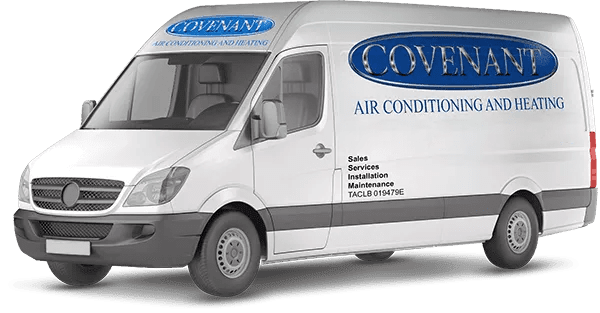 Does Your Heater Need Some Help?
Even with proper installation and professional maintenance, all heating systems will eventually need repairs. If your unit is making strange noises, cycling on and off constantly, or not providing enough heat, it's time to call in professional heating repair Leander, TX.
Watch out for these warning signs:
Energy bills are higher than last year without evident cause.
No one surely wants their energy bills to be high, especially when the weather is colder. If your heater is constantly running, it will drive your energy bills up. The good news is that Covenant Air Conditioning & Heating can help you fix this problem!
Water pours from the furnace exhaust pipe.
If water is pouring out of your furnace exhaust pipe, it means that your heater isn't working correctly and needs immediate attention.
You're not comfortable in your home.
Do you feel too cold or too hot in your home? It may be time to have your HVAC system serviced. An incorrectly working unit can result in an uncomfortable environment for you and your family.
Your furnace is making strange noises.
Odd sounds like rattling, banging, or hissing could indicate something wrong with your furnace. Perhaps something as simple as a clogged air filter. But it's best to have a professional take a look at it just to be sure.
The pilot light is out.
If the pilot light is out, it means that your furnace isn't working. This could be due to several reasons, such as a faulty igniter or a lack of fuel. If you're unsure how to relight the pilot light, give Covenant Air Conditioning & Heating a call.
The thermostat seems to be malfunctioning.
Your thermostat is responsible for telling your furnace when to turn on and off. If it's not working properly, it could result in an inefficient system and higher energy bills. The culprit could be a dirty thermostat or a loose wire.
You can't get the furnace to turn on.
This is a serious problem and should be addressed immediately. There could be a variety of reasons why your furnace isn't turning on, but the most likely one is that there's no power going to it.
Give Yourself the Gift of a Newly Repaired, High-Functioning Heater with Covenant Air Conditioning & Heating!
As a homeowner, there are few things worse than dealing with a broken heating system in the middle of winter. If your furnace is on the fritz, it's essential to call in the professionals as soon as possible.
Covenant Air Conditioning & Heating is your number one choice for quality heating repair Leander, TX. Our team can help you with a wide range of repairs, including thermostat replacement, faulty pilot lights, incorrectly wired systems, broken igniters, and more.
Don't wait until it's too late – call Covenant Air Conditioning & Heating today at (512) 318-2257!

Schedule Your Service
Use our online scheduler to book your appointment.

Hear From Our Happy Customers
"

Scheduling and coordination was professional and a new unit was installed by a prompt and professional installation team! Our experience could not have been better. We are definitely ready for another Texas summer

"

- Kevin K.

"I just had a major repair done by Covenant and could not be happier. I called them on a Sunday afternoon because my A/C was out, and they were able to squeeze me in for a service call that day."

- Nina M.

"Had a great experience with Covenant! They installed a new A/C for me and it works wonderfully. Good price, too. Overall, this company met and exceeded my expectations."

- France B.

"I have used Covenant a few times for repairs on my A/C and they always do a great job. The technicians are always very friendly and professional. So I definitely recommend this company if you encounter any problem with your A/C."

- Dale D.

"I highly recommend Covenant A/C, communication was great from receptionist, workmen and Michael Luker. You cannot go wrong with this aboveboard company."

- Cathey C.