Austin Duct Repair
Helping Customers Restore Their Home Comfort in Cedar Park
When your ducts are leaking, it can have a serious impact on your home's comfort. That's why you should turn to Covenant Air Conditioning & Heating for professional duct repair in Austin, TX. Our technicians will help you!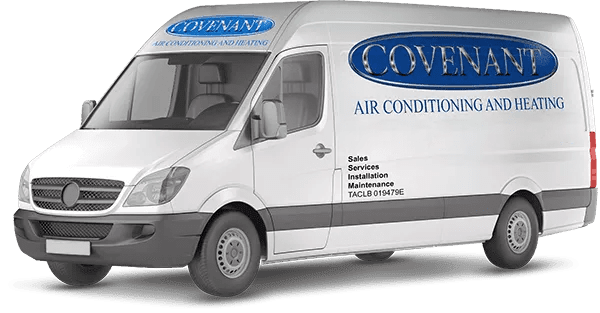 Signs You Need Duct Repair
It's not always easy to determine whether or not your ducts are leaking. Fortunately, there are some key signs you can look out for that will indicate you need duct repair.
Common signs that you need duct repair include:
You can hear loud noises coming from your ducts when the system is running
You smell musty odors in your home
Certain parts of your home are always warmer or colder than others
Dirt and debris are constantly falling out of your vents
Your air conditioner or furnace runs for longer than usual
Your home isn't as comfortable as it used to be
How Duct Leaks Can Impact Your Home
If your ducts are leaking, not only will you be losing out on heated or cooled air, but the air in your home will be full of dust and debris. This can cause your allergies to flare up and cause damage to your HVAC system.
The dust and debris in your air can cause:
Clogged filters
Dirty vents
A damaged HVAC system
Increased energy costs
If you're worried that your ducts may be leaking, contact our Austin duct repair team. We'll come out to your home to assess the situation and help you find a solution.
Call our team today at (512) 318-2257 or contact us online for more information about our services for duct repair in Austin.

Schedule Your Service
Use our online scheduler to book your appointment.

Hear From Our Happy Customers
"

Scheduling and coordination was professional and a new unit was installed by a prompt and professional installation team! Our experience could not have been better. We are definitely ready for another Texas summer

"

- Kevin K.

"I just had a major repair done by Covenant and could not be happier. I called them on a Sunday afternoon because my A/C was out, and they were able to squeeze me in for a service call that day."

- Nina M.

"Had a great experience with Covenant! They installed a new A/C for me and it works wonderfully. Good price, too. Overall, this company met and exceeded my expectations."

- France B.

"I have used Covenant a few times for repairs on my A/C and they always do a great job. The technicians are always very friendly and professional. So I definitely recommend this company if you encounter any problem with your A/C."

- Dale D.

"I highly recommend Covenant A/C, communication was great from receptionist, workmen and Michael Luker. You cannot go wrong with this aboveboard company."

- Cathey C.