Attic Insulation Leander, TX
Superior Attic Insulation In Leander, TX
Did you know that your attic is one of the biggest culprits in energy loss? It accounts for about a third of heat loss in residential spaces. Without good attic insulation, that heat and air conditioning can quickly be wasted.
With superior attic insulation Leander, TX, Covenant Air Conditioning & Heating can help your home retain that precious heat in winter and keep the cool air inside during summer. Our experts will assess your current level of attic insulation, determine what needs to be done to improve it, and then take the necessary steps.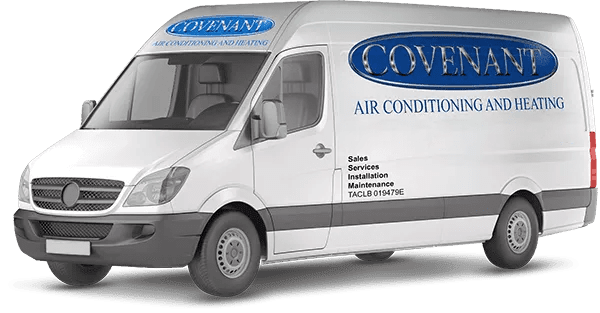 Six Great Reasons to Insulate Your Attic Today
Insulating your attic may seem like an unnecessary expense, but it is well worth the cost. Here are six reasons why attic insulation Leander, TX should be a priority on your home improvement to-do list:
Lower Down Energy Bills: By keeping the warm air inside during the winter and keeping the hot air out during the summer, insulation helps maintain a comfortable indoor temperature without having to overwork your HVAC system. It can save you hundreds of dollars on energy costs throughout the year!
Reduce Carbon Footprint: The less energy you use, the more effective you are at reducing your carbon footprint. While insulation may seem like a small thing, it can have a big effect when it comes to your environmental impact. Reports estimate that almost 30 percent of all greenhouse gas emissions in the US can be attributed to energy loss from poor insulation.
Quieter Home/Business: If you live in a noisy neighborhood or just want to get away from the hustle and bustle of daily life, attic insulation Leander, TX can help filter out some of those outside noises. It will also help keep the sounds down inside your home so that you can relax and unwind.
Improved Air Quality: Fiberglass insulation used in attics has been found to reduce airborne particles, such as dust mites and pollen, which can cause allergies and other respiratory issues if left unchecked. Additionally, proper ventilation within an attic helps prevent mold growth which further improves indoor air quality as well.
Stop Heat Loss/Gain: During cold winter months, an uninsulated attic allows warm indoor air to escape outside while bringing colder outdoor temperatures into living areas – costing homeowners money in increased heating costs as well as negatively affecting comfort levels indoors.
Conversely, during hot summer months, an uninsulated attic allows hot outdoor temperatures inside while allowing cooled indoor air out – costing homeowners money in increased cooling costs as well as reducing comfort levels indoors once again.
Increased Home Value: Finally, increasing home value is another great benefit that comes with proper attic insulation Leander, TX. Having an up-to-date and properly functioning insulation system installed on any residential property increases its value significantly when placed on the market for sale, meaning all those hours spent insulating are sure to pay off down the road if you ever decide to sell!
Our Crew of Insulation Professionals Has Your Home Protected!
With decades of experience and a team of licensed and thoroughly trained professionals, Covenant Air Conditioning & Heating is here to keep your home secure and comfortable. For the best attic insulation Leander, TX has to offer, contact us today at (512) 318-2257 and start feeling the difference!

Schedule Your Service
Use our online scheduler to book your appointment.

Hear From Our Happy Customers
"

Scheduling and coordination was professional and a new unit was installed by a prompt and professional installation team! Our experience could not have been better. We are definitely ready for another Texas summer

"

- Kevin K.

"I just had a major repair done by Covenant and could not be happier. I called them on a Sunday afternoon because my A/C was out, and they were able to squeeze me in for a service call that day."

- Nina M.

"Had a great experience with Covenant! They installed a new A/C for me and it works wonderfully. Good price, too. Overall, this company met and exceeded my expectations."

- France B.

"I have used Covenant a few times for repairs on my A/C and they always do a great job. The technicians are always very friendly and professional. So I definitely recommend this company if you encounter any problem with your A/C."

- Dale D.

"I highly recommend Covenant A/C, communication was great from receptionist, workmen and Michael Luker. You cannot go wrong with this aboveboard company."

- Cathey C.