AC Maintenance Round Rock, TX
Dependable A/C Maintenance
In Round Rock, TX
At Covenant Air Conditioning & Heating, we work hard to provide the community with reliable and efficient HVAC services. We want your A/C to run smoothly, especially during the hot summer months in Texas. Our team of licensed technicians is always ready to assist you with any A/C maintenance in Round Rock, TX.
Your cooling system is a significant part of your home's overall comfort, which is why scheduling annual maintenance with us is a great idea! Contact our team today!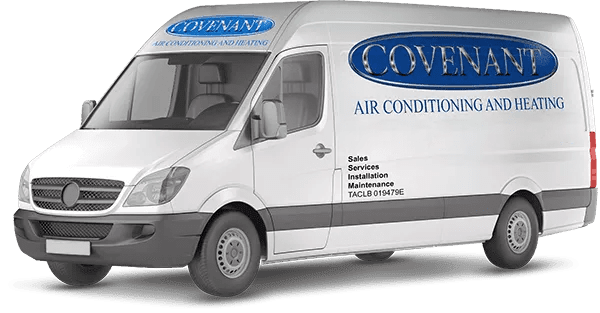 A/C Maintenance: 5 Tips to Keep Your System Running Smoothly
Summertime is the time of year when most people start to use their air conditioners. Hence, you need to do some A/C maintenance in Round Rock, TX, before the weather gets too hot. If you want to make sure your system is running smoothly, follow these five tips:
1. Clean or change your air filters.
Keeping your air filters clean is one of the most important things you can do to maintain your air conditioner. Dirty filters will make your A/C work harder and lead to early failure. Most air filters need to be replaced every month or two, but check your filter's instructions for specific recommendations.
If you don't feel like cleaning or changing your air filter yourself, you can always call a professional to do it for you.
2. Make sure the vents are open and unobstructed.
If your vents are blocked, your A/C won't be able to distribute cool air throughout your home. Make sure all the vents in your home are open and free of obstructions. If you have any furniture or decorations blocking your vents, try rearranging them so that the air can flow more freely.
You may also need to move some things out of the way during the winter months when you're not using your A/C.
3. Check the insulation around your windows and doors.
Leaky homes can result in high energy bills during the summer months. That's why it's essential to check the insulation around your windows and doors. If you find gaps or cracks, you can seal them with caulk or weatherstripping.
You can also buy insulating window treatments like shades, curtains, or blinds to help keep the cool air in your home.
4. Keep the outside unit clean.
The outside unit of your air conditioner is responsible for transferring heat out of your home. If it becomes covered in dirt or debris, it will be less effective at doing its job. That's why you should keep the area around the unit clear of any plants or obstructions.
You can also hose down the unit every so often to remove any built-up dust or dirt. Just make sure you let it dry completely before turning it back on.
5. Schedule regular maintenance checks with a qualified technician.
Lastly, you should schedule regular maintenance checks with a qualified technician. Having a professional check your air conditioner every year is an excellent way to ensure it's running at its best.
They can clean the unit, replace any worn-out parts, and update your system's settings to help you save energy.
Set an Appointment with Our Team Today!
Call our Covenant Air Conditioning & Heating team when you're ready for some A/C maintenance in Round Rock, TX! We can help you keep your system running smoothly all summer long. With our expertise, you can rest easy knowing that your air conditioner is in good hands.
For a free AC maintenance estimate, call our Round Rock team at (512) 318-2257 today!

Schedule Your Service
Use our online scheduler to book your appointment.

Hear From Our Happy Customers
"

Scheduling and coordination was professional and a new unit was installed by a prompt and professional installation team! Our experience could not have been better. We are definitely ready for another Texas summer

"

- Kevin K.

"I just had a major repair done by Covenant and could not be happier. I called them on a Sunday afternoon because my A/C was out, and they were able to squeeze me in for a service call that day."

- Nina M.

"Had a great experience with Covenant! They installed a new A/C for me and it works wonderfully. Good price, too. Overall, this company met and exceeded my expectations."

- France B.

"I have used Covenant a few times for repairs on my A/C and they always do a great job. The technicians are always very friendly and professional. So I definitely recommend this company if you encounter any problem with your A/C."

- Dale D.

"I highly recommend Covenant A/C, communication was great from receptionist, workmen and Michael Luker. You cannot go wrong with this aboveboard company."

- Cathey C.