About Us
Austin AC & Heating Services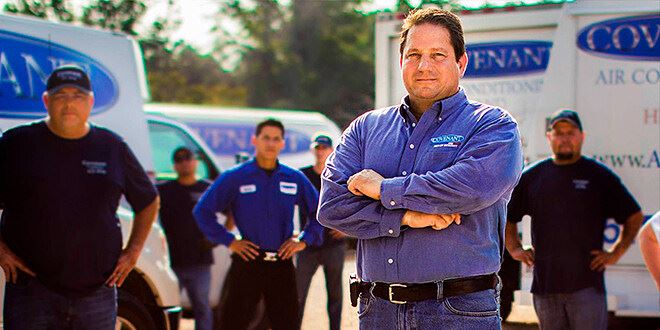 We're a family-owned company with more than 20 years of experience. Our dedication to our local community has built us an excellent reputation, and we never cut corners when it comes down to providing you the best service possible!
We Make Your Comfort Our Business!
We make sure that you're home is comfortable and relaxed, safe from the heat. Our fleet of brand-new vehicles is equipped with reliable technicians who can help diagnose any AC or heating issues quickly, so we'll be there before things get out of hand!
Our fleet of Covenant trucks and our dependable technicians are standing by, ready to answer your call for air conditioning or heating needs, using brand name parts & equipment.
Give us a call today at contact us online for all of your air conditioning and heating needs.
Your Family is Our Family
We're not just any old HVAC company. We take pride in our family-owned and operated status since the beginning, which translates to customer satisfaction like you've never seen before!
When we come out for an estimate or repairs on your system (or if something goes wrong), don't worry: all of our technicians are happy to answer questions as well so that everything runs smoothly from start-to finish with no confusion whatsoever. They'll answer any questions you may have about how we work or what kind would best suit yours too.
When you need a team of professionals to take care of your home, we're the way to go. Our experts are dedicated and efficient; they'll be there in no time!
Our backbone is our years of service in the industry. With that experience, we know and understand all HVAC systems. That's why our team can quickly diagnose any potential problems with your AC or heating system!
We're constantly updating our skills and the latest technology. That way, you can be confident that your home is being taken care of by the best in the business. We'll leave your house clean and tidy so that you can go on with your day worry-free!
Our business was founded to provide quality services for our customers. We want everyone to be as comfortable as possible at home, which is why we're committed to making sure that your cooling and heating system is up to your standards!
The Covenant Club - Founded for a Reason
The cost of repairs for a home's HVAC system can be costly and frustrating, which is why we offer our memberships to the Covenant Club. For just one low yearly fee, you get access to routine inspections and maintenance services at 10% off on any work needed!
Being part of this club makes sure your heating & cooling problems don't turn into emergencies because, with all these benefits, it'll take care never to find yourself in an emergency again.
Call us today at contact us online for all of your air conditioning and heating needs.

Schedule Your Service
Use our online scheduler to book your appointment.