Trusted A/C Repair In Round Rock, TX For Residential And Commercial Spaces
It is never a good time for your air conditioner to break down, but it can be incredibly frustrating when it happens during the hottest days of summer or middle of the night. If you need A/C repair in Round Rock, TX, you can trust Covenant Air Conditioning & Heating professionals. We have been providing quality service to residential and commercial customers for years, and we are dedicated to meeting your needs.
We offer a variety of A/C repair services, including:
Repairing leaks
Replacing compressor coils
Cleaning evaporator coils
Diagnosing and fixing electrical problems
In addition, we also offer preventative maintenance services to help keep your A/C unit running smoothly all season long.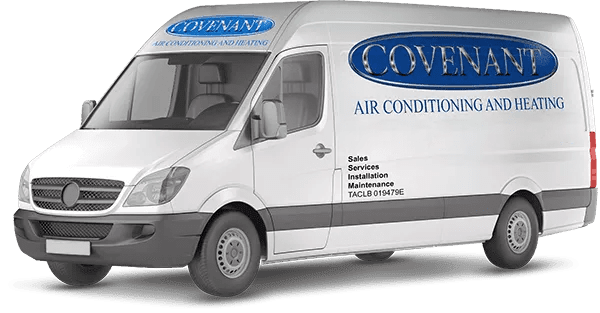 Common Air Conditioning System Issues
No matter how well you take care of your air conditioning system, some common issues are likely to occur at some point. It might be with the unit itself. In other cases, it may result from something outside of the equipment.
Some of the most common issues include the following:
Equipment not cooling correctly – One of the most common problems with A/C systems is that they do not cool the space as effectively as intended. It may be attributable to various factors, such as dirty filters, blocked vents, or inadequate refrigerant.
Noise from the equipment –Air conditioning systems can often be quite noisy (e.g., clicking or buzzing sounds), particularly when running at total capacity. It can be due to a clogged filter or worn-out parts. If the noise is excessive or becomes disruptive, it may indicate a problem with the system.
Water leakage –A/C often uses water to cool the air in the space. If there is a leak, it can cause water damage to the surrounding area. The reasons vary, from a clogged drain and leaky evaporator coil to a broken condensation pump.
Improperly functioning thermostat –The thermostat is responsible for telling the air conditioning system when to turn on and off. Not working at its peak means causing the unit to run constantly or not turn on at all.
Issues with the ductwork –The ductwork is responsible for carrying the cooled air from the air conditioning unit to the rest of the space. If there are any problems with the ductwork, it can affect how effectively the cooling system works.
High energy bills – One of the most common complaints about air conditioning systems is being expensive to run. It might be due to an inefficient unit, incorrect settings, or related factors.
If you are experiencing any of these issues, getting immediate A/C repair in Round Rock, TX, is essential. Failure to do so may further damage the equipment or even result in a hazardous situation.
Schedule Your Air Conditioning Repair Now!
Summer is quickly approaching, and with it, the soaring temperatures. Don't let the heat get you down; schedule your air conditioning repair today! By taking care of any necessary repairs now, you'll be able to keep your home cool and comfortable all season long. Remember the saying, the sooner you catch a problem, the easier and less expensive it will be to fix.
For any concerns about A/C repair in Round Rock, TX, don't hesitate to drop us a call at (512) 318-2257 any time of the day or night. We'll work quickly to get your home or office comfortable again!

Schedule Your Service
Use our online scheduler to book your appointment.

Hear From Our Happy Customers
"

Scheduling and coordination was professional and a new unit was installed by a prompt and professional installation team! Our experience could not have been better. We are definitely ready for another Texas summer

"

- Kevin K.

"I just had a major repair done by Covenant and could not be happier. I called them on a Sunday afternoon because my A/C was out, and they were able to squeeze me in for a service call that day."

- Nina M.

"Had a great experience with Covenant! They installed a new A/C for me and it works wonderfully. Good price, too. Overall, this company met and exceeded my expectations."

- France B.

"I have used Covenant a few times for repairs on my A/C and they always do a great job. The technicians are always very friendly and professional. So I definitely recommend this company if you encounter any problem with your A/C."

- Dale D.

"I highly recommend Covenant A/C, communication was great from receptionist, workmen and Michael Luker. You cannot go wrong with this aboveboard company."

- Cathey C.