Reliable Air Conditioning Experts In Austin, TX And Surrounding Cities
Looking for a dependable air conditioning service in or near Austin, TX? Search no further than Covenant Air Conditioning & Heating, Inc.
We offer a wide range of A/C services, including A/C repair, installation, and maintenance.
Whether you need to replace a worn-out system or ensure your unit stays in its best shape all year round, our team is ready to help you.
Our technicians are equipped with the latest know-how and state-of-the-art tools to deliver a service that would meet your requirements and expectations.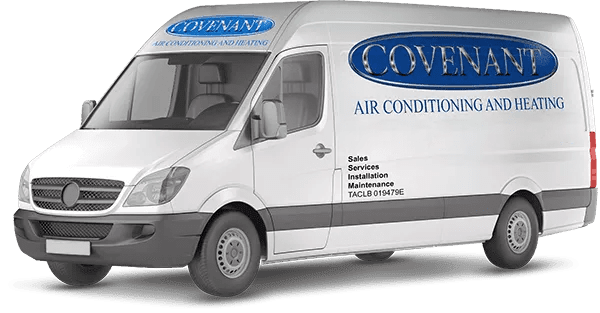 Your Most Trusted HVAC Company in Austin, TX and surrounding cities Offering Top-Notch A/C Services
At Covenant Air Conditioning & Heating, Inc., our team goes above and beyond to deliver high-quality A/C services.
We understand that when it comes to acquiring A/C services in Austin, TX and surrounding cities, you want someone you can trust and speak freely with. We make sure our technicians are skilled and trustworthy so we only hire and deploy the type of A/C technicians that we would allow in our properties.
We offer the following A/C services:
Professional A/C Installation
An air conditioning unit, even the most efficient and expensive one, won't cool your space properly if it is not installed right. So don't take chances; hire only the experts. At Covenant Air Conditioning & Heating, Inc., our technicians have experience installing all types of air conditioning units.
When you choose us to install your unit, you can rest assured the unit is installed correctly. We also ensure it's the right fit and size, so you can enjoy maximum cooling comfort.
Dependable A/C Repair
An air conditioning unit can malfunction or stop working completely at any time. We understand how troublesome and uncomfortable that can be, so we ensure our team is available when you need help getting your unit back up and running.
We're your trusted air conditioning companies in Austin, TX and surrounding cities with technicians who can understand air conditioning systems like the back of their hands and can spot the problems in no time. They're also adept at fixing all kinds of air conditioning issues.
Preventive A/C Maintenance
We know that a well-functioning air conditioning system can make all the difference during those hot summer months, which is why we take our time to ensure your unit is running smoothly.
Our comprehensive air conditioning maintenance programs are designed to prevent any issue and ensure your cooling equipment is ready for warmer months. So you don't have to worry about getting caught feeling the heat in the middle of summer.
Contact Our A/C Pros Now For Fast and Reliable Services!
When it comes to A/C services in Austin, TX and surrounding cities, trust no one but the company that delivers the best results. At Covenant Air Conditioning & Heating, Inc., we have an excellent track record of success and constantly work hard to be your go-to HVAC service provider.
Our team is highly skilled at handling commercial and home air conditioning systems in Austin, TX and nearby areas. No matter what size your air conditioning job might be, we are ready to help!
You can count on receiving nothing but unmatched A/C service from start to finish. Please don't hesitate to give us a call today at (512) 318-2257 for more information about our products or services!

Schedule Your Service
Use our online scheduler to book your appointment.

Hear From Our Happy Customers
"

Scheduling and coordination was professional and a new unit was installed by a prompt and professional installation team! Our experience could not have been better. We are definitely ready for another Texas summer

"

- Kevin K.

"I just had a major repair done by Covenant and could not be happier. I called them on a Sunday afternoon because my A/C was out, and they were able to squeeze me in for a service call that day."

- Nina M.

"Had a great experience with Covenant! They installed a new A/C for me and it works wonderfully. Good price, too. Overall, this company met and exceeded my expectations."

- France B.

"I have used Covenant a few times for repairs on my A/C and they always do a great job. The technicians are always very friendly and professional. So I definitely recommend this company if you encounter any problem with your A/C."

- Dale D.

"I highly recommend Covenant A/C, communication was great from receptionist, workmen and Michael Luker. You cannot go wrong with this aboveboard company."

- Cathey C.