Heating Installation Round Rock, TX
Top-Rated Heating Installation
In Round Rock, TX
When it comes time for a heating installation in Round Rock, TX, there are several factors you should take into account. Our Covenant Air Conditioning & Heating team can help walk you through the process and ensure that you're making the best decision for your family and home.
Contact us today to learn more!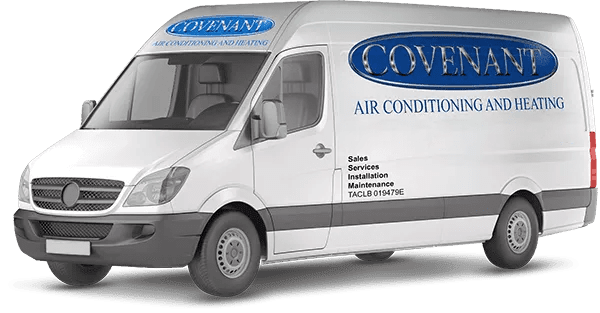 5 Things to Consider Before Having a New Heating Installation
If you're in the market for a new heating system, it's essential to do your research before deciding. This article will discuss five things to consider before having a new heating installation done in your home.
1. The Cost
One of the most important things to consider when choosing a heating system is the cost. Heating systems can be expensive, so you'll want to choose one that fits your budget.
Various factors will affect the cost of a new heating installation, including the type of system you choose, the size of your home, and the extent of the work that needs to be done. Be sure to get quotes from several different contractors before making a decision.
2. The Type of Heating System
Another vital thing to consider is the type of heating system you want. Many different heating systems are available, including furnaces, boilers, and heat pumps.
Each type of system has its own set of pros and cons, so you'll need to decide which one is best for your home. Talk to a contractor about the available options and see the best fit for your needs.
3. The Size of Your Home
The size of your home is another crucial factor to consider when choosing a heating system. Some machines are better suited for larger homes, while others are ideal for smaller homes.
A system that is too small or too large will not work correctly and may end up costing you more in the long run.
4. The Climate
The climate is another critical factor to consider when choosing a heating system. If you live in a cold environment, you'll need a system to handle the cold weather. If you live in a warm climate, you'll need a system to take the heat.
To be sure, ask for professional advice about the best system for your climate. You can never go wrong with getting an opinion from your trusted HVAC service provider before making a big purchase like this.
5. Warranties and Maintenance
Finally, be sure to ask about warranties and maintenance before getting a heating installation in Round Rock, TX. Most systems come with a warranty, but you will need to have it serviced regularly to keep it in good condition.
It's wise to ask your contractor about the warranty and maintenance policies for the system you choose. It will help ensure that your system is adequately taken care of and lasts for many years.
Contact Your Trusted Tech for Heating Installation in Round Rock, TX Today!
At Covenant Air Conditioning & Heating, we provide quality heating installation in Round Rock, TX, and the surrounding areas. We have years of experience installing all types of heating systems, and we can help you choose the system that is best for your home.
If you're interested in learning more about our heating installation services, please give us a call today at (512) 318-2257. We would be happy to answer any questions you may have.

Schedule Your Service
Use our online scheduler to book your appointment.

Hear From Our Happy Customers
"

Scheduling and coordination was professional and a new unit was installed by a prompt and professional installation team! Our experience could not have been better. We are definitely ready for another Texas summer

"

- Kevin K.

"I just had a major repair done by Covenant and could not be happier. I called them on a Sunday afternoon because my A/C was out, and they were able to squeeze me in for a service call that day."

- Nina M.

"Had a great experience with Covenant! They installed a new A/C for me and it works wonderfully. Good price, too. Overall, this company met and exceeded my expectations."

- France B.

"I have used Covenant a few times for repairs on my A/C and they always do a great job. The technicians are always very friendly and professional. So I definitely recommend this company if you encounter any problem with your A/C."

- Dale D.

"I highly recommend Covenant A/C, communication was great from receptionist, workmen and Michael Luker. You cannot go wrong with this aboveboard company."

- Cathey C.