AC Installation Round Rock, TX
High-Quality A/C Installation in Round Rock, TX
Many homeowners don't think about the importance of A/C installation in Round Rock, TX until it's too late. Unfortunately, an improperly installed A/C system can lead to many problems down the road, including decreased performance and increased energy bills.
Hence, it is crucial to choose a qualified contractor to install your A/C system properly. At Covenant Air Conditioning & Heating, we have years of experience in the HVAC industry, and we only use the latest and most advanced equipment and techniques. We also offer a 100% satisfaction guarantee on all our work, so you can be sure you're getting the best possible service.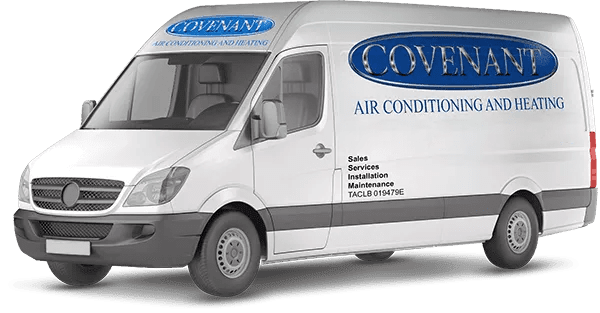 Do You Really Need A/C Installation?
There are a lot of factors to consider when you're trying to decide whether or not you need A/C installation in Round Rock, TX. One of the most important is how hot it gets where you live. If the temperature regularly reaches 100 degrees or more, you definitely need A/C. But if it only occasionally reaches those temperatures, you may be able to get away without it.
Another factor to consider is how much space you have. If your home is too small for an A/C unit or the windows don't open, you may need to install one. Another consideration is your budget. Air-cooling systems can be expensive. But the good news, you can also find some affordable options out there.
Ultimately, the decision comes down to personal preference and what's best for your specific situation. If you think you need an A/C unit, then it's probably a good idea to install one. But if you're not sure, you can always consult with a professional. We can help you evaluate your needs and decide what's best for you.
Why Choose HVAC Pros Over DIY
You may be wondering if you need to have your air conditioning installation done by a professional. The answer is yes – here's why:
Installing air conditioning is not as easy as it seems. There are a lot of factors that need to be considered, such as the size of the unit, the type of home, and the climate. A professional will have the knowledge and experience to get the job done right the first time.
The contractor will also ensure that your air conditioning unit is installed in an optimal location – one that will provide you with maximum cooling power. They will also consider things like insulation and airflow when installing your unit.
Air conditioning installation, in general, requires specialized tools and equipment. A professional will have access to all the necessary tools and equipment, which means that the job will be done quickly and efficiently.
Lastly, an HVAC pro will ensure that your A/C unit is properly calibrated and functioning correctly. It can help to save you money on your energy bills in the long run
Keep Cool This Summer with A/C Installation in Round Rock, TX
Summer is just around the corner, but don't let it leave you scorching under the temperature!
If you're looking for high-quality A/C installation in Round Rock, TX, call us today at (512) 318-2257. We offer a wide range of services, including installation, repair, and maintenance. We're dedicated to providing our customers with the highest level of service possible – so you can rest assured that your air conditioning installation will be done right the first time.
For AC installation in Round Rock, TX, call (512) 318-2257 or contact us online for a free estimate.

Schedule Your Service
Use our online scheduler to book your appointment.

Hear From Our Happy Customers
"

Scheduling and coordination was professional and a new unit was installed by a prompt and professional installation team! Our experience could not have been better. We are definitely ready for another Texas summer

"

- Kevin K.

"I just had a major repair done by Covenant and could not be happier. I called them on a Sunday afternoon because my A/C was out, and they were able to squeeze me in for a service call that day."

- Nina M.

"Had a great experience with Covenant! They installed a new A/C for me and it works wonderfully. Good price, too. Overall, this company met and exceeded my expectations."

- France B.

"I have used Covenant a few times for repairs on my A/C and they always do a great job. The technicians are always very friendly and professional. So I definitely recommend this company if you encounter any problem with your A/C."

- Dale D.

"I highly recommend Covenant A/C, communication was great from receptionist, workmen and Michael Luker. You cannot go wrong with this aboveboard company."

- Cathey C.