AC Maintenance Leander, TX
Homeowner's Choice For Efficient And Affordable A/C Maintenance Leander, TX
It's no secret that homeownership is a big responsibility. Along with monthly mortgage payments, homeowners are responsible for the upkeep and maintenance of their homes. It includes tasks like mowing the lawn, painting the walls, and fixing leaky faucets. One of the most important – and expensive – aspects of home maintenance is keeping the air conditioning unit running efficiently.
Many homeowners in Leander, TX, neglect regular air conditioning maintenance, which can lead to huge repair bills. Covenant's A/C maintenance Leander, TX, can be an affordable and accessible solution! We provide an array of services at an affordable price, from tune-ups to repairs. Plus, we offer a 100% satisfaction guarantee on all services.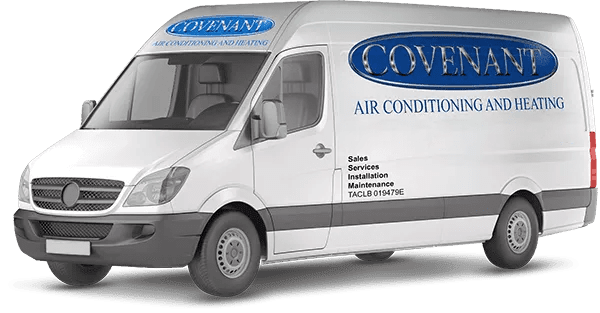 What Maintenance Does an Air Conditioner Need?
An air conditioning unit basically needs two types of maintenance: regular and seasonal.
Regular A/C maintenance is a series of tasks that should be performed every six months to keep your air conditioner running efficiently. This includes cleaning the filters, checking the wiring, and tightening loose screws.
On the other hand, seasonal A/C maintenance is a series of tasks that must be done once a year before summer and winter start. The work includes cleaning the unit, checking the refrigerant levels, changing the filters, and checking the wiring.
The most important part of A/C maintenance Leander, TX, is a professional cleaning of the cooling coils and fans. It will remove any built-up dirt, dust, or other debris that can decrease the efficiency of your A/C unit and cause it to run hotter than necessary.
Why Is Maintenance Important?
One of the essential aspects of owning an air conditioner is keeping up with regular maintenance. Think of it like you would your car.
You wouldn't drive your car for years on end without changing the oil, and you shouldn't let your air conditioner go too long without proper maintenance. Like any other piece of equipment, your unit needs regular service to run at its best.
Failure to do so can result in decreased efficiency, which leads to higher energy bills. It can also be a health hazard – creating a breeding ground for bacteria and viruses. A dirty air conditioner can also increase your risk of developing respiratory problems.
A/C maintenance Leander, TX, includes cleaning the condenser and evaporator coils, checking the refrigerant level, and lubricating all moving parts. It's also an excellent time to change the air filter and check the wiring. All of this work helps keep your system functioning at its best and prevents problems from developing later.
Properly maintained A/C units are more energy-efficient, so you'll save money on your cooling costs in the long run. They also last longer, so you'll get more years of use out of your unit.
So, if you want to avoid costly repairs, keep your family healthy, and save on your energy bills, be sure to schedule annual air conditioner maintenance.
Need A/C Maintenance in Leander, TX? Covenant Air Conditioning & Heating Can Help!
Especially if you're not comfortable doing the work yourself, it's a good idea to call in the experts for regular or seasonal A/C maintenance. We proudly serve the Leander, TX area with quality services.
Whether tune-up or repair, our team of professionals can get the job done quickly and efficiently. For more information about our A/C maintenance Leander, TX, or to schedule service, call us today at (512) 318-2257!

Schedule Your Service
Use our online scheduler to book your appointment.

Hear From Our Happy Customers
"

Scheduling and coordination was professional and a new unit was installed by a prompt and professional installation team! Our experience could not have been better. We are definitely ready for another Texas summer

"

- Kevin K.

"I just had a major repair done by Covenant and could not be happier. I called them on a Sunday afternoon because my A/C was out, and they were able to squeeze me in for a service call that day."

- Nina M.

"Had a great experience with Covenant! They installed a new A/C for me and it works wonderfully. Good price, too. Overall, this company met and exceeded my expectations."

- France B.

"I have used Covenant a few times for repairs on my A/C and they always do a great job. The technicians are always very friendly and professional. So I definitely recommend this company if you encounter any problem with your A/C."

- Dale D.

"I highly recommend Covenant A/C, communication was great from receptionist, workmen and Michael Luker. You cannot go wrong with this aboveboard company."

- Cathey C.