Highly-Experienced Heating Maintenance Contractor In Austin, TX And Surrounding Cities
Heating maintenance services in Austin, TX is one of the most important aspects of owning a heating system. Getting professional HVAC techs like us on board will help make sure that the next winter season is as smooth-running for you or anyone else who might use our services.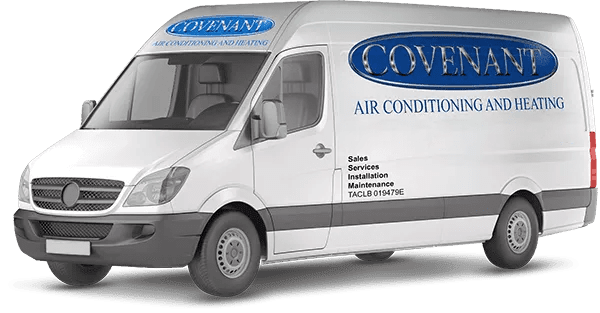 We Give the Care Your System Deserves
If you're like most people, your heating system may be working just fine and keeping the chill at bay. But don't forget that it needs regular care as well- from oil changes to tune-ups or repairs when something goes wrong! That way not only can this help save money on bills by ensuring everything is in good shape but also increase its longevity for years of warmth (and savings!)
Covenant Air Conditioning & Heating is known for our high-quality workmanship and attention to detail. We take a comprehensive approach to heating maintenance, ensuring that every component of your system is inspected and serviced. This includes checking the thermostat settings, cleaning the filters, lubricating moving parts, checking for leaks, and more.
You can be confident that your heating system is in good hands when you choose us. We have the experience and expertise to handle even the most complex maintenance tasks.
Benefits of Professional Heating Maintenance
What do you get out of professional heating maintenance? We've listed the key benefits you'll reap when hiring an expert to provide professional heating system maintenance in Austin, TX and surrounding areas.
Improved efficiency
A well-maintained heating system is more efficient than a neglected one. When all of the components work together as they should, your system will use less energy to heat your home, saving you money on your monthly utility bills.
Longer life for your heating system
Having a professional heating contractor service your system regularly can help ensure that it will last for years to come. You'll also get the most out of your investment in your system.
Fewer repairs needed
Harsh weather conditions and improper care are significant causes of breakdowns in heating systems. By hiring a professional company to handle your maintenance needs, you'll be able to avoid these problems before they happen.
Reduced risk of carbon monoxide poisoning
Many heating system malfunctions can cause dangerous carbon monoxide (CO) levels to accumulate in your home. This is a poisonous gas with no color, odor, or taste. When you sign up for our heating maintenance services, we'll make sure this never happens.
Peace of mind
One of the most valuable benefits you'll enjoy is peace of mind. You can sit back and relax knowing that the Covenant Air Conditioning & Heating professionals are working hard to keep your heating system running smoothly.
Why Get a Heating Maintenance Agreement
Heating maintenance agreements ensure that your heating system is appropriately taken care of all year long. Without it, you may forget to have the HVAC serviced or be in a situation where paying for one comprehensive visit becomes too much financially tiring.
At Covenant Air Conditioning & Heating, we offer heating maintenance agreements designed to fit your budget and schedule. We'll work with you to create a custom agreement that includes all of the services that your system needs.
We make sure that your system is serviced regularly so that you can enjoy all the benefits of professional residential heating maintenance in Austin, TX and nearby communities.
Sign Up For Heating Maintenance! It's Quick and Easy!
At Covenant Air Conditioning & Heating, we're proud to offer our customers high-quality services at a price they can afford. We're committed to providing the best possible service, and we'll work hard to keep your heating system running smoothly all year long.
If you're interested in learning more about our Heating Maintenance services, please give us a call today at (512) 318-2257.

Schedule Your Service
Use our online scheduler to book your appointment.

Hear From Our Happy Customers
"

Scheduling and coordination was professional and a new unit was installed by a prompt and professional installation team! Our experience could not have been better. We are definitely ready for another Texas summer

"

- Kevin K.

"I just had a major repair done by Covenant and could not be happier. I called them on a Sunday afternoon because my A/C was out, and they were able to squeeze me in for a service call that day."

- Nina M.

"Had a great experience with Covenant! They installed a new A/C for me and it works wonderfully. Good price, too. Overall, this company met and exceeded my expectations."

- France B.

"I have used Covenant a few times for repairs on my A/C and they always do a great job. The technicians are always very friendly and professional. So I definitely recommend this company if you encounter any problem with your A/C."

- Dale D.

"I highly recommend Covenant A/C, communication was great from receptionist, workmen and Michael Luker. You cannot go wrong with this aboveboard company."

- Cathey C.