Austin, TX AC Installation & Replacement
Providing Quality Cooling System Upgrades in Cedar Park & Beyond
It's no secret that HVAC systems are built to last, and when properly maintained, they can provide years of reliable service. But there comes a time when an AC system is beyond repair and needs to be replaced with a new one. When that time comes, you want to make sure the job is done right by experienced professionals who use only top-quality parts. That's why Covenant Air Conditioning & Heating is your go-to source in Austin for quality AC installation and replacement services!
At Covenant Air Conditioning & Heating, we take great pride in our workmanship. Our technicians are trained professionals who will ensure your new AC system is installed correctly and up to code. We use only the highest quality parts available and make sure that each installation is done properly so you can enjoy cool comfort for many years to come. Plus, all of our work is competitively priced, so you don't have to worry about breaking the bank when it comes time to upgrade your cooling system!
We understand how important it is to keep your home comfortable throughout hot Texas summers, which is why we strive not only to provide outstanding service but also fast response times when installing or replacing your AC system. So don't wait any longer to get your space cooled down.
Call us today at (512) 318-2257 or fill out our online form to request a free estimate! Let Covenant Air Conditioning & Heating show you why we're the trusted choice for AC installation and replacement in Austin, Cedar Park, and beyond!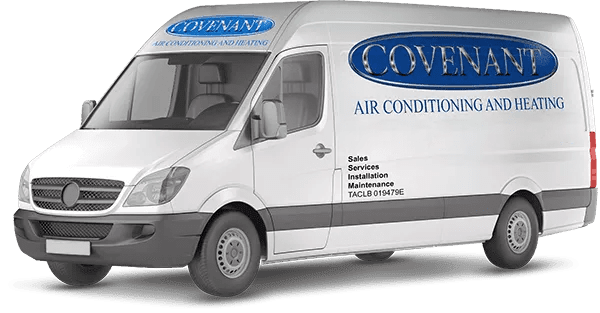 How To Know Whether to Fix or Replace My AC?
Replacing an AC is a big investment that many want to avoid by opting for repairs, but at some point, a new installation is necessary. Certain indicators suggest it's time to replace the system instead of repairing it and understanding these signs can help you make the right decision when it comes to your HVAC system.
Considering upgrading your AC unit if:
Your AC system is old and has had several repairs over the past few years. If you have an HVAC system that is more than 10 years old and has required frequent repairs, it's likely time to replace the unit. Investing in a new energy-efficient model will save you money on utility bills in the long run as well as provide greater indoor comfort.
You are noticing higher energy bills despite routine maintenance. When your AC works harder than normal, it can cause your energy costs to spike, even when you've taken proper care of your system. An upgrade to a newer model could result in lower utility costs in the future.
You are experiencing poor air quality in your home. Dirty or clogged filters can compromise air quality, which could lead to health problems for those inside the home. Upgrading to a newer AC unit with improved filtration features can help improve air quality and ensure everyone is breathing cleaner air.
Your cooling system is making loud noises or vibrating during operation. Unusual sounds or vibrations coming from an HVAC system suggest something isn't operating correctly and should be checked out right away by a professional technician before any further damage occurs.
The thermostat no longer responds or works properly. If your thermostat cannot respond accurately to temperature changes in your home, then it may need replacing or upgrading as soon as possible so that you're not stuck with excessive cooling/heating costs due to inefficient temperature management within your living space.
Your existing AC unit no longer cools efficiently throughout the home. An old or poorly maintained AC unit may struggle to keep up with demand throughout an entire home, leading to uneven temperatures in various areas of the house resulting in hot spots and cold spots within the residence. Investing in a new high-performance AC unit could help balance temperatures across all areas of your home more efficiently.
What Our Installation Services Include
We understand that investing in a new AC unit is a big decision, and at Covenant Air Conditioning & Heating, we want to make sure it's worth every penny. That's why our team of experienced technicians takes extra care to ensure your installation goes as smoothly as possible.
Here are some of the steps we take to assist you with AC Installation:
Assessing the size and layout of your home or office space to determine the best type of system for you.
Consulting with you on energy-efficient options and helping you select the right model for your needs and budget.
Installing high-quality parts from trusted manufacturers only so that everything is up to code when finished.
Performing thorough tests after installation to guarantee optimal performance before leaving the job site.
Offering maintenance services post-installation so that you can enjoy cool comfort all summer long!
These are just some of the many ways that Covenant Air Conditioning & Heating works hard to ensure you get the best AC installation services in Austin. So don't wait any longer to upgrade your cooling system – contact us today!
Call (512) 318-2257 or fill out our online form to request a free estimate. We look forward to hearing from you!

Schedule Your Service
Use our online scheduler to book your appointment.

Hear From Our Happy Customers
"

Scheduling and coordination was professional and a new unit was installed by a prompt and professional installation team! Our experience could not have been better. We are definitely ready for another Texas summer

"

- Kevin K.

"I just had a major repair done by Covenant and could not be happier. I called them on a Sunday afternoon because my A/C was out, and they were able to squeeze me in for a service call that day."

- Nina M.

"Had a great experience with Covenant! They installed a new A/C for me and it works wonderfully. Good price, too. Overall, this company met and exceeded my expectations."

- France B.

"I have used Covenant a few times for repairs on my A/C and they always do a great job. The technicians are always very friendly and professional. So I definitely recommend this company if you encounter any problem with your A/C."

- Dale D.

"I highly recommend Covenant A/C, communication was great from receptionist, workmen and Michael Luker. You cannot go wrong with this aboveboard company."

- Cathey C.