Austin, TX Air Conditioning Maintenance
Keeping Your AC Running Strong All Year Long
Your air conditioning system is an important part of your home's comfort and energy efficiency, so regular maintenance is a must. Just like a car needs a tune-up to keep it running optimally, your AC system should be regularly maintained as well in order to ensure that it performs at its best when you need it most.
At Covenant Air Conditioning & Heating, we understand how important it is for you and your family to stay cool during the hot Texas summers. That's why our team of licensed technicians is skilled in maintaining all sorts of AC models using only the latest tools and parts available. We provide quality service that won't break the bank!
Our preventative maintenance services include:
Cleaning coils
Checking refrigerant levels and pressures
Testing safety controls for proper operation
Lubricating motors and bearings
Checking fan belts for tightness/wear/damage
inspecting electrical connections/components for signs of wear or corrosion
plus much more!
These necessary tasks help us identify any potential issues before they become major problems down the line – saving you time and money in repairs! Plus with regular servicing from Covenant Air Conditioning & Heating, you can rest easy knowing that your unit will run efficiently and help you avoid the high energy bills that come with a system running at less than optimal performance.
When it comes to keeping your AC in top-notch shape, don't leave it up to chance – contact us today! Dial (512) 318-2257 or complete our online form to schedule a service. Se habla español.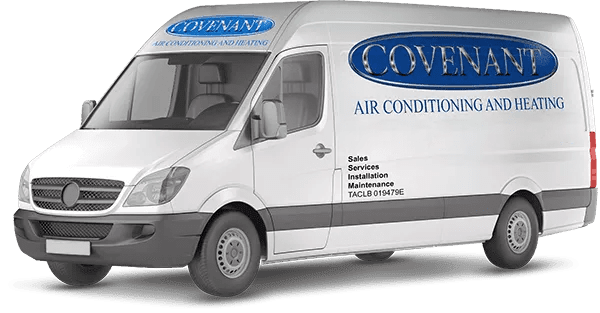 Benefits of Regular AC Maintenance
Many people may not think it's necessary to maintain their air conditioning system if it seems to be running fine today. But just because things are going well now doesn't mean they will stay that way tomorrow! Regular maintenance is essential for keeping your AC system in top-notch shape and preventing costly repairs down the line. If you neglect your AC for months or even years, you could be looking at a major repair bill – one that might have been avoidable with regular maintenance.
Increased energy efficiency: Regular maintenance can help your AC system run more efficiently and save you money in energy bills by making sure it is operating at its best.
Fewer repairs: A well-maintained unit will be less likely to need expensive repairs as any issues can be identified before they become major problems. This means more of your hard-earned money stays in your pocket.
Improved air quality: With regular filter changes, your air conditioning system will circulate clean, fresh air throughout your home instead of trapping dust and allergens inside the unit or circulating them around the house.
Enhanced comfort and reliability: Professional technicians are trained to detect any potential issues with your AC so that you can rest easy knowing that it won't let you down when you need it most – especially during hot Texas summers!
Peace of mind: When it comes to keeping your AC in top-notch shape, don't leave anything up to chance – contact a professional for regular servicing so that you know everything is taken care of properly!
How Often Should My AC Unit Be Serviced?
It is generally recommended to schedule air conditioning maintenance once a year. Spring is often considered the best time to schedule maintenance, before the hot summer months when you'll rely on your air conditioning system the most. Regular annual maintenance helps ensure your system is in good working condition, improves efficiency, prevents potential issues, and extends its lifespan.
Our AC Maintenance Program in Austin
At Covenant Air Conditioning & Heating, we understand how important it is to keep your air conditioner running smoothly and efficiently. That's why we put together a comprehensive AC maintenance program for our customers in Austin and the surrounding area. Our licensed technicians are skilled in maintaining all sorts of AC models using the latest tools and parts available on the market.
Our AC maintenance program includes:
Professional tune-ups that include checking and refrigerant levels, electrical connections, motors, belts, bearings, filters, and more.
Comprehensive cleaning of condenser coils to help improve airflow efficiency.
Evaluation of system performance as well as safety components such as carbon monoxide detectors.
Repair or replacement of worn out or broken parts if necessary with high-quality products from leading manufacturers.
An explanation of any potential problems so you can make an informed decision about what needs to be done next.
A free estimate so you know exactly what kind of costs you're looking at before committing to any repairs or replacements needed for your system's health and longevity.
A 1-year warranty on parts and labor.
Covenant Air Conditioning & Heating provides comprehensive AC maintenance services to ensure your unit runs smoothly throughout the summer or other hot days. Our highly trained technicians thoroughly check every part of your AC, identify any issues, and fix them promptly, preventing any sudden breakdowns and avoiding any inconvenience. Trust us to make sure your AC is always ready to keep you cool and comfortable.
To schedule your appointment for AC maintenance, call us today at (512) 318-2257. Or fill out our online form and one of our team members will contact you shortly.

Schedule Your Service
Use our online scheduler to book your appointment.

Hear From Our Happy Customers
"

Scheduling and coordination was professional and a new unit was installed by a prompt and professional installation team! Our experience could not have been better. We are definitely ready for another Texas summer

"

- Kevin K.

"I just had a major repair done by Covenant and could not be happier. I called them on a Sunday afternoon because my A/C was out, and they were able to squeeze me in for a service call that day."

- Nina M.

"Had a great experience with Covenant! They installed a new A/C for me and it works wonderfully. Good price, too. Overall, this company met and exceeded my expectations."

- France B.

"I have used Covenant a few times for repairs on my A/C and they always do a great job. The technicians are always very friendly and professional. So I definitely recommend this company if you encounter any problem with your A/C."

- Dale D.

"I highly recommend Covenant A/C, communication was great from receptionist, workmen and Michael Luker. You cannot go wrong with this aboveboard company."

- Cathey C.