Heating Maintenance Leander, TX
Professional Heating Maintenance In Leander, TX
When you call Covenant Air Conditioning & Heating for your heating maintenance Leander, TX, you can be sure that we will be there when we say. You never have to worry about waiting around all day for a technician or getting a call back with bad news.
Our experienced and reliable technicians are standing by to come out and give your heating unit the tune-up it deserves. Not only can we ensure your system is in good working order, but we will also inspect it for any major damage or signs of wear that could turn into a serious issue in the future.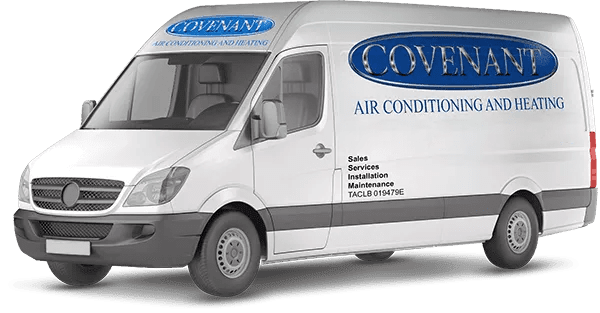 Tips for Preventing Heater Breakdowns and Emergencies
As the winter weather continues, it is important to be mindful of your heating systems. Breakdowns can occur at any time, leading to costly repairs and inconveniences. Fortunately, you can take steps to reduce the chances of a heater emergency happening in your home or office.
Here are some heating maintenance Leander, TX tips for preventing heater breakdowns and emergencies.
Clean Filters
Most people forget about their air filters until something goes wrong. However, it's important to remember that they play an important role in maintaining your system's efficiency. Clogged filters can affect airflow, leading to system shutdowns or, even worse – a total system meltdown!
It's best practice to replace dirty filters monthly or as often as your manufacturer recommends to keep airflow moving at its optimal rate while preventing additional dust build-up in your space.
Check For Leaks
Leaks can be one of the most common causes of emergency repairs regarding heaters since they can go undetected for long periods before causing serious problems like water damage or mold growth. As part of heating maintenance Leander, TX, check around pipes, hoses, and other connections for potential signs of leaks, such as wet spots or puddles on the floor near the unit.
Check Vents
It is also important to check vents regularly throughout the winter season. Inspect all visible vents around your property for blockages, such as furniture or debris blocking airflow from entering rooms or areas needing heat circulation. Keeping these areas clear allows for proper airflow within your space, preventing overheating or inefficient energy use when running your unit during colder months.
Replace Old Systems
If you have an old heating system that is no longer functioning properly or has become too costly to maintain, consider replacing it with a newer model. Investing in new technology can help save money in the long run by reducing energy consumption costs while providing more reliable temperature control than an older model would provide.
Newer models are often designed with improved safety features like automatic shut-off sensors should temperatures rise too high within a room due to clogged air filters or blocked vents mentioned above.
Book a Routine Maintenance Visit
One of the best ways to avoid unexpected repairs is scheduling routine heating maintenance Leander, TX. Professional technicians can inspect your system for possible issues and ensure everything is working properly before it needs to be used heavily during cold weather months.
During a maintenance check, technicians will also clean the unit, adjust components, lubricate the blower motor, and check safety components such as carbon monoxide detectors and fire extinguishers. It ensures the heater is up-to-date on regular maintenance items for efficiency and prolonged use.
Is Your Home Heating System Due for a Tune-Up?
If you're experiencing problems with your heater, the best thing you can do is to call our HVAC technician to come and check it out. We provide fast, reliable heating maintenance Leander, TX services at affordable prices. Get in touch with us today to learn more about our services or to schedule an appointment – call (512) 318-2257!

Schedule Your Service
Use our online scheduler to book your appointment.

Hear From Our Happy Customers
"

Scheduling and coordination was professional and a new unit was installed by a prompt and professional installation team! Our experience could not have been better. We are definitely ready for another Texas summer

"

- Kevin K.

"I just had a major repair done by Covenant and could not be happier. I called them on a Sunday afternoon because my A/C was out, and they were able to squeeze me in for a service call that day."

- Nina M.

"Had a great experience with Covenant! They installed a new A/C for me and it works wonderfully. Good price, too. Overall, this company met and exceeded my expectations."

- France B.

"I have used Covenant a few times for repairs on my A/C and they always do a great job. The technicians are always very friendly and professional. So I definitely recommend this company if you encounter any problem with your A/C."

- Dale D.

"I highly recommend Covenant A/C, communication was great from receptionist, workmen and Michael Luker. You cannot go wrong with this aboveboard company."

- Cathey C.